For more information, contact:
Shelby Bell
717.441.6040
Shelby@papropane.com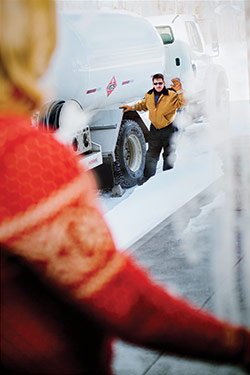 The Pennsylvania Propane Gas Association is asking people who heat with propane to take some simple steps to keep their families safe and warm this winter.
Propane delivery trucks are very wide, so please clear your driveway to a width of 12 feet to allow for access. Also, don't forget to clear a path to your tank so the delivery person can get to it.
Check your flue and vents for damage or blockage caused by drifting snow, and clean them frequently to reduce the chance of carbon monoxide poisoning. 
You should also establish a regular delivery schedule so you don't run out of Propane.
Click here to view additional important information to help you cope with upcoming winter storms and cold temperatures.
Click here to view PERC's Safety Module on what to do if you run out of Propane. We invite you to take the short quiz with your whole family.
The Pennsylvania Propane Gas Association (PAPGA) is a member-focused trade association providing services that communicate, educate and promote the propane industry in Pennsylvania. The association was formed in 1947 to offer opportunities to learn through training and networking with peers, and to aid with legislative issues that contribute to operating a safe and successful industry. PAPGA continues to focus on education, networking and representing the interest of Pennsylvania's propane businesses to the government, while assisting members in remaining current on topics vital to the propane industry. The Pennsylvania Propane Gas Association is affiliated with the National Propane Gas Association (NPGA) and the Propane Education and Research Council (PERC).
Click Here to Follow Us on Facebook
Click Here to Follow Us on Twitter
Attachments